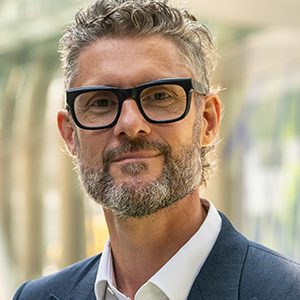 Diederick Santer
Chief Creative Officer
Diederick took up his current post as Chief Creative Officer, BritBox International, in September last year. He is responsible for overseeing commissioning and acquisition for this rapidly growing global streamer.
He began his TV career in 1996 script editing ITV dramas.
He joined BBC in 2000, where he developed and produced a number of series including Cutting It and the Emmy-nominated Jane Eyre.
In 2006 he became Executive Producer of EastEnders and over the next four years (and 700 plus episodes) delivered a consistent period of ratings and awards success. He stepped down in 2010 following the show's 25th anniversary live episode.
Diederick then set up his own production company, Lovely Day, a label within Kudos, which went on to produce the hugely popular crime series Grantchester (still in production eight years later)
In 2015 Diederick became Chief Executive of Kudos. Under his leadership, Kudos thrived with a string of hits including the International Emmy Awards-winning Man in an Orange Shirt, Channel 4 and AMC returner Humans, International Emmy-nominated Apple Tree Yard, Gunpowder for BBC One, Flowers for Channel 4, BBC Two's The Boy With The Topknot, and the Sky Atlantic hit, Tin Star.
In 2017 he had the honour of chairing the Edinburgh International Television Festival.
He left Kudos in 2019, and spent much of 2020 working with the commissioning team at BBC Drama, helping to oversee a number of their 2021 titles (including Time, The Pursuit of Love and Ridley Road).