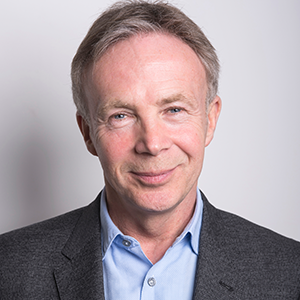 Graham Stuart
Co-Founder & Director
Graham Stuart co-founded So Television with Graham Norton in September 2000. Since then he has continued to executive produce the multi-award winning Graham Norton franchise in the UK and US as well as develop many new projects for the company. He has won many awards including three Baftas. Key So productions include, for BBC One: Idris Elba meets Paul McCartney, Billie Eilish Up Close, The Graham Norton Show, School's Out, Sorry I've Got No Head and Jack Whitehall's Father's Day. For ITV Memory Lane with Jennifer Saunders, for Channel 4 YearDot, So Graham Norton, V Graham Norton, Bring Back…Dallas, Bring Back…Star Wars and The Russell Brand, and for Five The Joan Rivers Position. So also produced The Graham Norton Effect for Comedy Central in the USA.
Up until August 2000, Graham was the Controller of Entertainment for United Film and Television Productions, part of United News and Media - one of the world's largest media groups. Productions included Julie Walters Is An Alien (also co-wrote book to accompany series), ITV Sports Awards, The Jack Docherty Show, Bring Me The Head of Light Entertainment (winner Bronze Rose Montreux 99), The Roy & HG Show, and So Graham Norton (winner BAFTA, RTS, British Comedy Awards, International Emmy, Broadcast Awards).
Prior to United he worked as the Head of Entertainment Features at LWT, Head of Factual Entertainment at Tiger Aspect and as a freelance producer for Hat Trick, Talkback, and Open Media. Productions included Coltrane In A Cadillac, Audience With…, Aspel and Co, The Late Clive James Show, Clive Anderson Talks Back and They Think It's All Over.